Company Overview/History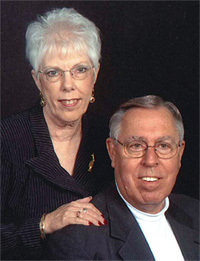 Landmark Business Systems' success as a provider of network enhancement solutions derives from the company's focus on complete customer satisfaction. The company strives to enhance our customers' productivity by providing industry-leading document processing equipment and service. Our goal is to conduct business in ways that work seamlessly with your employees toward consistently higher standards of quality, value and service.

Landmark Business Systems, an Award Winning Dealer, was incorporated in 1989 by its founders Ken and Karel Lollman. Ken's industry experience spans more than 42 years.

Ken began his career in Kansas City, Missouri at Monroe as a service technician trainee and later came to Oklahoma as a District Service Manager. He spent 28 years with Monroe before starting Landmark with focus on calculators and typewriters, which later expanded into the copier industry. In 1990, Landmark became an authorized dealer for Gestetner.

Karel Lollman, Ken's wife, has been CEO of Landmark Business Systems since 1989. Ken and Karel built the business on service and keeping their promises. They both have retired from the company; Ken currently serves as owner, while Karel is CEO.

Mike Lollman, the couple's son, joined the company in 1992 after serving 6 years active duty in the Air Force. He came into the business as a service technician trainee. He is now President of Landmark and serves in the Air National Guard.

After 17 years as a Gestetner dealer, Landmark introduced the Lanier product line and announced that they were now an authorized Lanier dealer as a result of the merge of the Gestetner and Lanier brands in early 2007.

Landmark's core values are to deliver exceptional customer service, technological innovation and value for your investment. These values are not just words-they reflect how we operate. While others set out to merely meet your expectations, at Landmark, we are satisfied only when we exceed them.